With borderless passion exploration, comes never-ending colorful experience. Sinarmas World Academy's elementary students break boundaries as they immerse themselves in a borderless passion exploration through the school immersion program in A.B. Paterson.
Experiencing first-hand the different career paths you can pursue in the future is definitely one of the most essential aspects of passion exploration. However, as the world becomes increasingly globalized, the road to passion discovery involves more than that.
Passion discovery in a globalized world requires an international approach, and an international approach is one that is not confined by geographic borders. Therefore, in the Australia Experiential Study Tour with Sinarmas World Academy, students took part in a 2-day school immersion program at A.B. Paterson, a Gold Coast-based private school.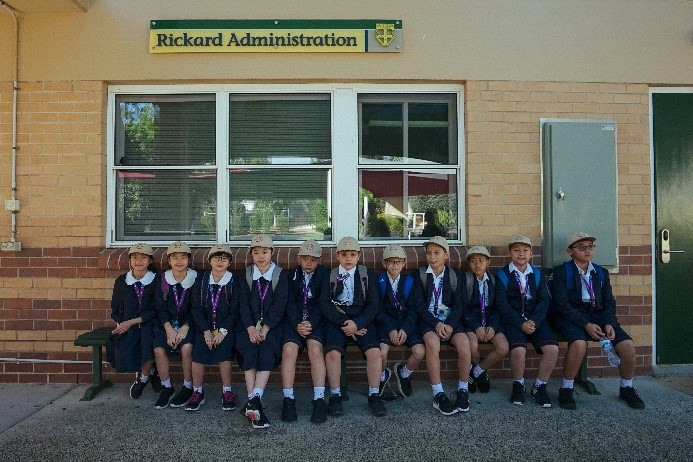 Students posing nervously on their first day
The journey needed true courage, as they had to adapt to different people with a similarly different school system. On the first day, some students admitted that they were scared of the great unknown. Especially when they have to meet new people at a completely foreign school. "When I walked into my class I felt very different from everybody," Ethan noted.
"I was so scared of the students because I did not know them, but I made friend with some people!" Aaron piped up. Fehmi agreed and explained that when he entered the class with Aaron and Winston, he had been nervous at first. But minutes go by, and not long after, he felt like he was a part of the class. Fehmi thought, "It was extraordinarily beautiful, it was one of a kind! It was really energetic, I was sitting next to Gabi and Nate, we both became good friends really quickly."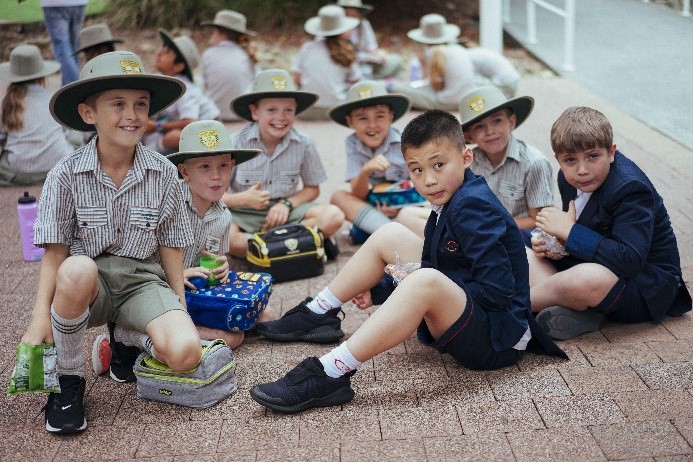 Our Vooyagers are slowly adapting with their new friends!
There was also the fear of being newcomers. "When I entered the school gate, I was surprised that no one really stared at us, and I was pretty happy," Kimberlee said. Despite the scary possibility of being out of place, our Vooyagers went in bravely and successfully conquered their nervousness and fear. Everyone eventually settled in after they had their school tour and met new friends.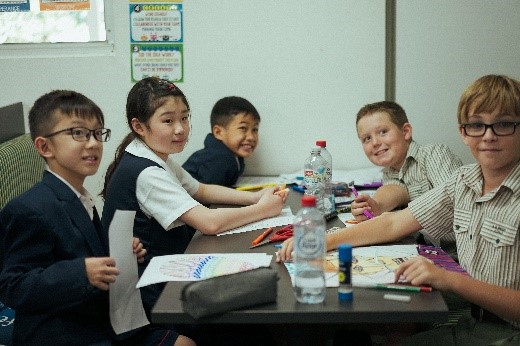 Being in class with their new friends
As the core objective of school immersion is to immerse the participants in the school programs, students went through the day by participating in the classes. The morning classes included Reading and Math. There was a break time for students to refresh, too. "When it was snack time we had cookies," Alex said. "I got to eat a giant scrumptious choco-chip cookie that my teacher gave me!" Kimberlee added.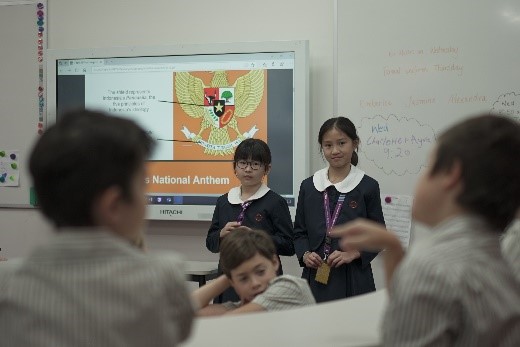 Students presenting their country of origin
On the first day, students had to present a PowerPoint on Indonesia as well. "Aftermath, we had to present our PPT. I was nervous!" William said. It was nerve-wracking, but our Vooyagers successfully presented their presentation. This boosted their confidence in public speaking, as well as speaking in front of a new audience.
In the Physical Educations class, students were given time to be active. Students from SWA as well as A.B. Paterson came together and played basketball and handball. Aside from enhancing their physical health, the class allowed them to have fun and learn teamwork simultaneously.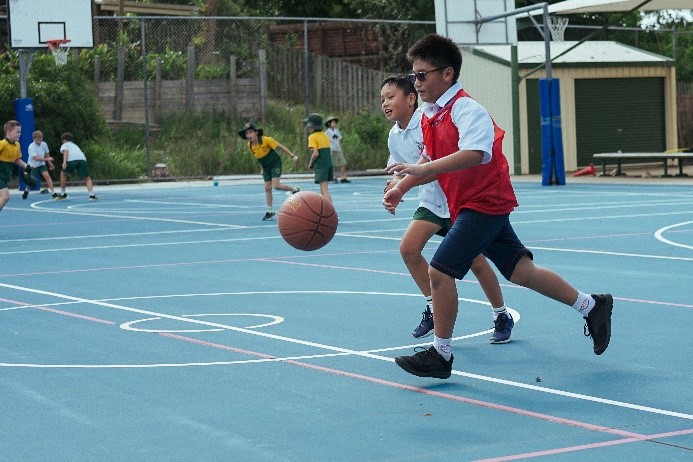 Our future basketball star working it in the court
In the afternoon, our Vooyagers had lunch with their new friends. "The food is fried rice, yumm!" Jasmine recalled. Afterward, students were encouraged to be creative through the art class. Especially, as Easter was around the corner, the creations were all Easter-themed. "We made bunny arts, we filled a printed bunny drawing with different, but cool and fun patterns!" Alex explained. "It turned out better than I expected but took longer than I expected to draw it. I learned to be patient," Trevyn said proudly about his art piece.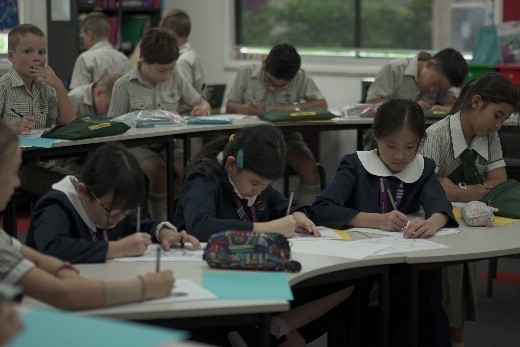 Completing worksheet as part of the lesson
How did the first day go then? "The best day of our exchange program!" Fehmi exclaimed. "I learned that you should be brave to make friends. I plan to have even more fun tomorrow," Winston gushed. "I now learned how Australian school work. It is different from Indonesian schools," Trevyn added. Ethan agreed and added, "It was so much more different from our school. Everybody moved classes."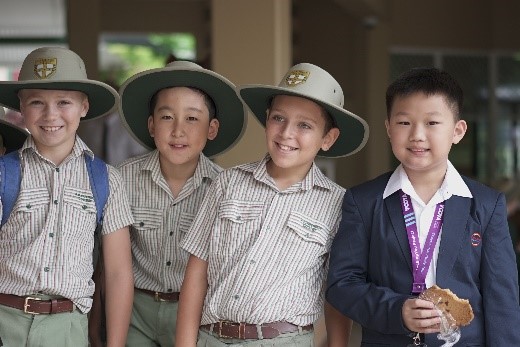 Slowly but surely fitting in
On the second day of the school immersion program, the day began with an assembly. "Today, we had an assembly for Mrs. Roman, who is the Principal. She had been working in A.B Paterson for 10 years," William explained. During the assembly, students had to sing the national anthem of Australia. Were our Vooyagers familiar with the national anthem? "All of the students didn't know to sing it, but luckily there were lyrics on the screen," Alex said reassuringly.
Students hang out together at lunch as they grow closer
Students were also more comfortable than they had been yesterday. "I feel like we had already had a connection, I am also not scared of them anymore," Jasmine said. "Now that I know the students, I greeted them all. This was more comfortable than yesterday," Winston explained.
In the remaining day, students had an arts and craft session. "Today in arts and crafts, we had to make anything & be creative. Well, I made an Easter card for my Mom and Dad. I haven't given it to them yet, so I hope they will love it," Kimberlee said. "My favorite part of today probably arts because we made different crafts and use stickers and tape to decorate them," Alex added. "I also made a card for my family!" Jasmine exclaimed.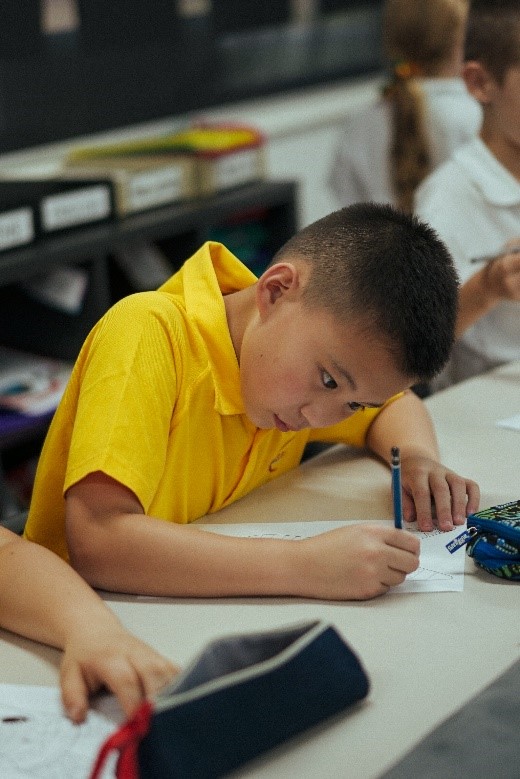 Focusing on the worksheet given
Aside from arts and craft, students had Japanese as well as completing multiple worksheets. Kimberlee emphasized how good the food at lunch was, "At lunch, I ate noodles and it was delish!" However, as it was the last day, students felt rather blue about leaving. "We were treasuring our last few minutes here at A.B Paterson," Kimberlee said.
Our Vooyagers seemed to have connected with their new friends and felt comfortable about the different school system. Everyone expressed their sadness for farewell. "We say our goodbye and it was really sad to say goodbye," Fehmi said. Everyone agreed they would all miss the school, the teacher, and especially the new friends they have made.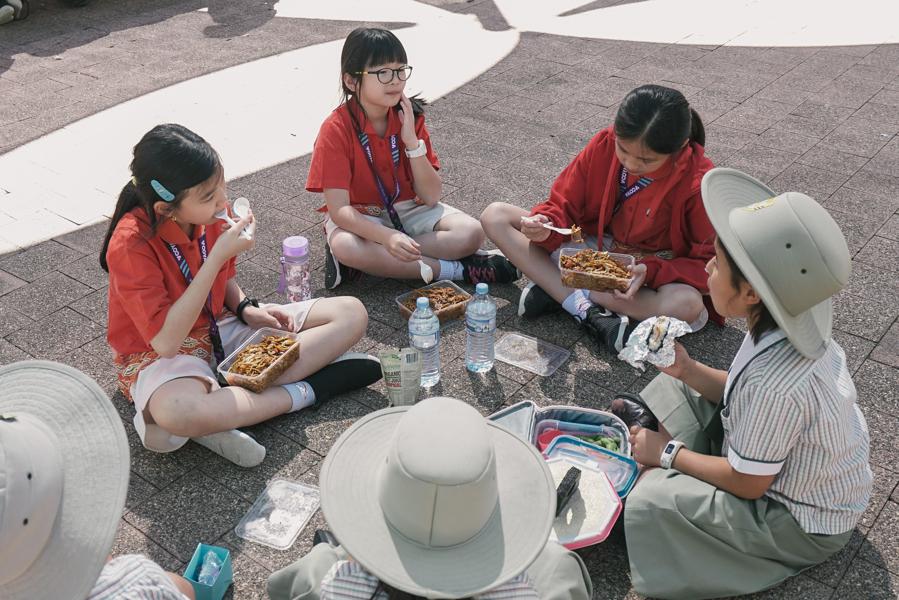 Eating lunch and making memories
However, it was not all farewell and no bright side. By the end of the 2-day program, our Vooyagers felt enlightened and enriched by their school immersion experience. "I will really miss this school. And I learned to not take life too seriously because the past is the past, and you can't change that," Kimberlee said wisely. Moreover, their experience was very positive that they actually wanted to go back again! "I plan to visit this school again and make even more friends!" Winston chimed in.
The visit and immersion program has truly broadened the students' horizon. Not only have they been exposed to more diverse social comparison and competition, but they have also gained new friends, as well as new skills and knowledge. Students also came out of the experience braver and more confident than ever, especially when faced with the need to adapt to a new environment. What about you? Do you have the same courage our Vooyagers have?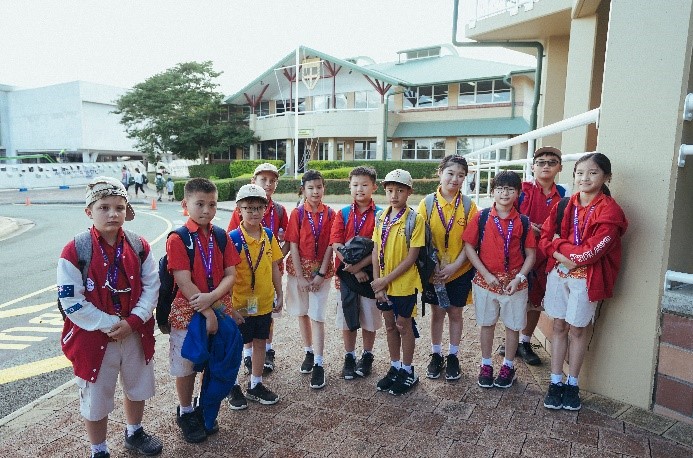 See you on the next school immersion program!