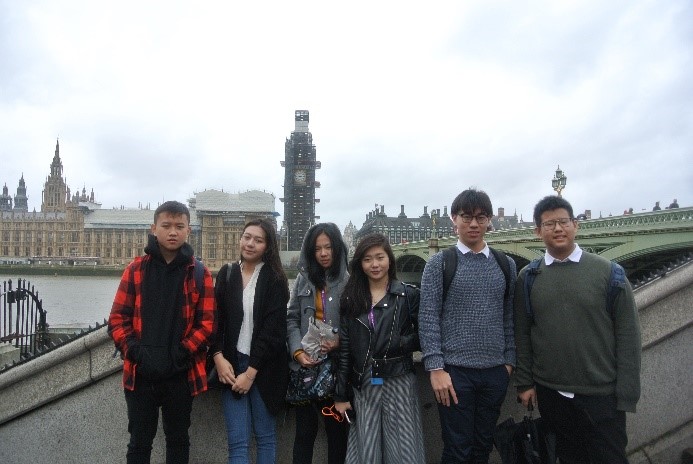 Students explored England as they set out in search of their passion
If you have dreamt of living like the wizards and witches in the (not so) fictional world of J.K. Rowling's magical world of Harry Potter, this 10-day experiential study tour in England is probably the closest you can get to flying on a broom across the London sky. In the spring of 2019, 6 students from IPEKA Integrated Christian School (IICS) flew all the way to the northern hemisphere, only to hop around 4 different cities in England, all in their journey of discovering their passion. What followed was not only an insightful journey, but also an enriching one.
Wicked the Musical
Just like Dorothy who went on a magical journey to the Land of Oz, these IICS students were on their own journey to discovering their passion by learning the fundamentals of a theatre performance. With the guidance of Theatre Workout, a London-based award-winning theatre and events company, the students learned vocal techniques, choreography, and acting through a song adapted from the infamous Wizard of Oz story. Creatively pumped, students then had the opportunity to watch what they learned live at the Apollo Victoria Theatre.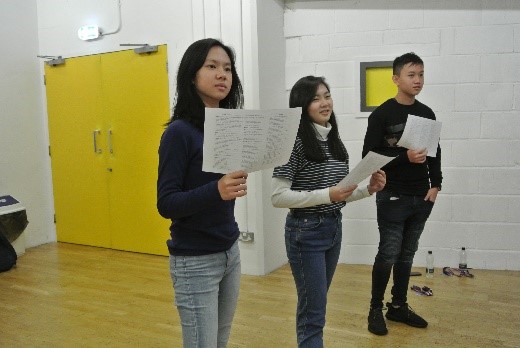 Script reading has never been this magical!
Business of Football at Chelsea FC
Are you a football fan? If you are, then you are in for a treat! In this business workshop that was held at Stamford Bridge Stadium, students were given a tour of the stadium as well as the inner workings of football business. This time, with the Chelsea Football Club (or if you are a hardcore fan, the Blues). The workshop involved the operational aspects of a stadium and a football club, including merchandising, marketing, finance, and staffing.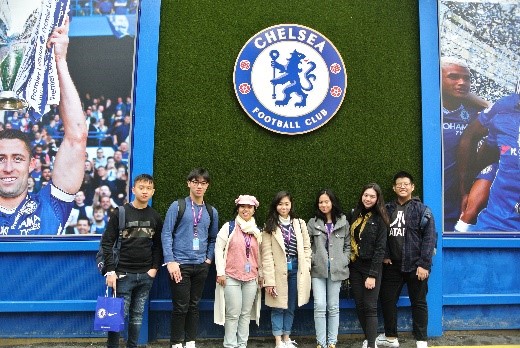 Posing with the iconic blue logo of Chelsea FC
British Afternoon Tea Etiquette
What is more British than having some afternoon tea? The age-old ritual is essential to English culture, and IICS students had the opportunity to explore its history and etiquette with The English Manner. During the workshop, not only did students learn how to properly prepare and drink tea, but students also learned how to sit, eat, pose, stand, and even walk! Every detail of hosting and guesting from greetings to polite small talks was also covered. Now, you have graduated from a mere tourist to the ranks of a British royalty!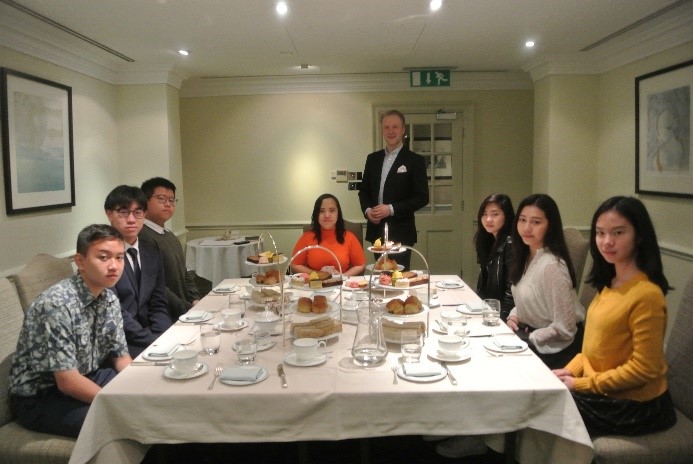 With William Hanson, English Manner's Senior Etiquette Tutor
Robotics and Coding
Skills in the STEM (Science, Technology, Engineering, and Mathematics) is a hot commodity right now, and students had the opportunity to a hands-on experience with STEM in with this Robotics and Coding workshop. With the guidance of Fire Tech Camp, UK's leading provider of technology camps and courses, students were taught basic engineering and programming. Students had to work together to design and code to build a functioning robot. The result is a machine that can autonomously carry out simple actions in response to its environment.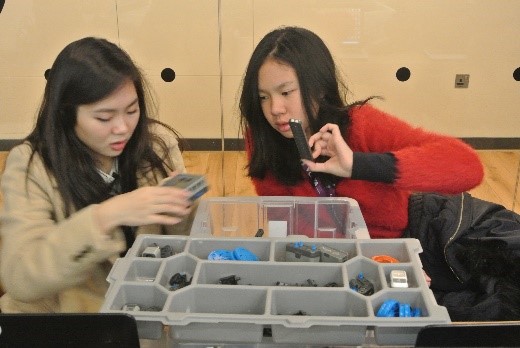 Students building their would-be moving robot
CSI Forensics
Before becoming the future Sherlock Holmes, IICS students had the chance to start their detective path by delving into a first-hand Crime Scene Investigation experience. Under the guidance of trained Scotland Yard detectives from The Detective Project, students learned the history and fundamentals of forensic science and crime. Afterwards, they were assigned a case that required analytical evidence gathering and forensic techniques such as fingerprint analysis, blood and blood-splatter analysis, footprint analysis, chromatography, and so on.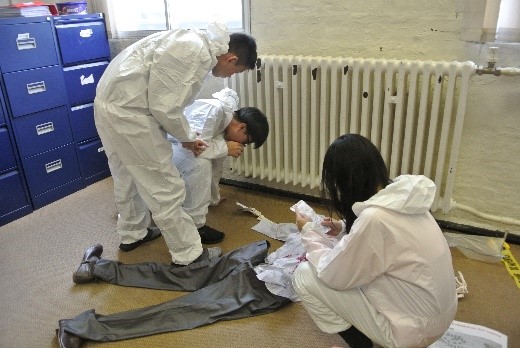 Students gathering evidence from the crime scene
MINI Cooper Factory Visit
A classic automotive brand, MINI has manufactured multiple uniquely British line of cars for decades. With this MINI Cooper factory visit, students had the chance to tour the factory and take a look at the production of this small cars manufacturer. The up-close tour provided students with an insight into the live engineering and manufacturing process at the birthplace and heart of MINI production.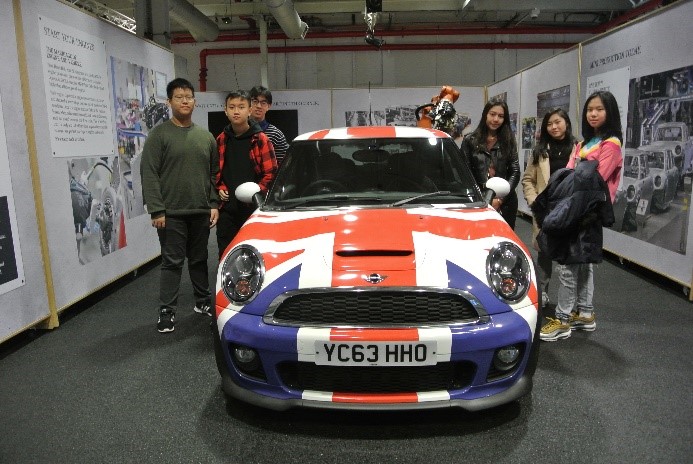 Students posing with a MINI
Mock Trial at the Royal Court of Justice
If you believe that justice must prevail, a career in the justice system might just be the one for you. Students fought to uphold justice in this mock trial at Royal Courts of Justice by assuming the roles of a judge, jury, barristers, witnesses, or defendant. The mock trial allowed students to learn about and experience law and justice system in a real courtroom, as they gain critical thinking skill, interpersonal verbal and non-verbal skill, as well as ethics and debate skills.
In front of the Royal Courts of Justice, one of the largest courts in Europe
Punting at Cambridge
A punt is a simple boat designed for small rivers or other shallow water. Students learned how to navigate this flat-bottomed boat with Scudamore's, Cambridge's original punting company, as they try to balance themselves on the punt. As they propel the punt along the river, they had the chance to tour the breathtaking view of Cambridge's college backs.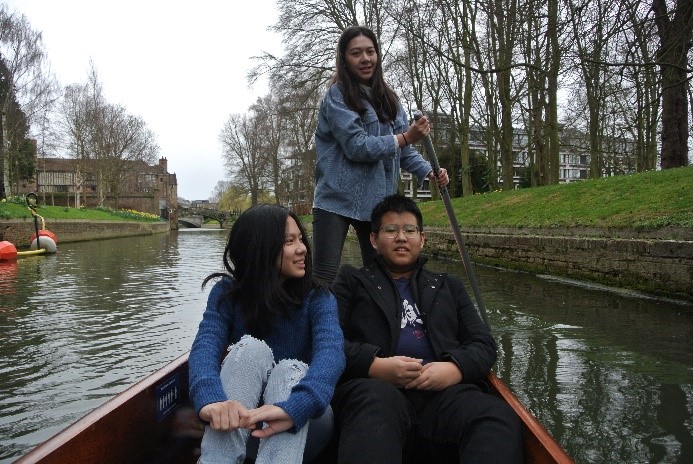 Students worked to propel their punt along the river
University Visits:
In an exploration to discover one's passion in England – home to the world's leading universities - how can one forget to visit some of the country's best universities? During this trip, students visited not one, not two, but six universities! All to see what it's like to pursue higher education in these iconic schools.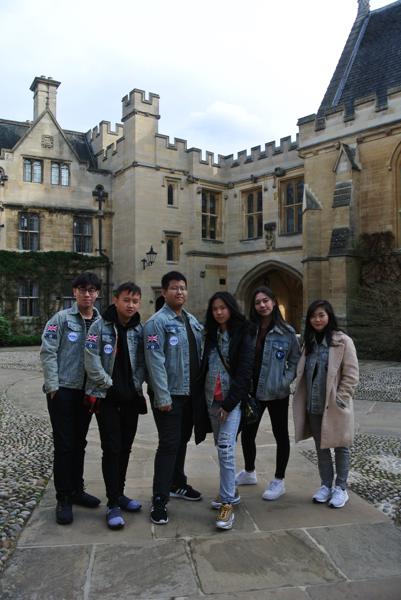 A visit to Oxfor d University
Four of the universities visited are part of the "golden triangle" of London-Oxford-Cambridge's top funded research universities. Students travelled from London's King's College and Imperial College, to the world's oldest English-speaking school, University of Oxford and the universities' north-east counterpart University of Cambridge. Two others are located in the West Midlands: the University of Birmingham at UK's second most populous city, and the University of Warwick at the second largest city in West Midlands after Birmingham.
Certainly, students took the chance to visit some of England's most iconic places. Buckingham Palace, Big Ben, the London Eye, Tower Bridge, and Platform 9¾ at King's Cross Station, we covered them all! Are you ready to take on England and discover your passion? If so, join Vooya in our magical Experiential Study Tour to discover your own Hogwarts!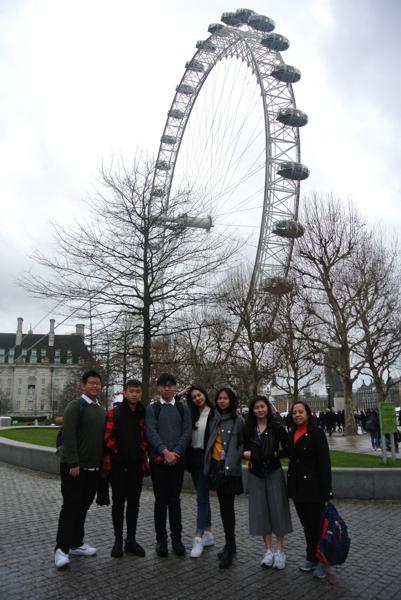 Are you eye-ing England for your next study tour aboard?